Nestled along Alaska's scenic passage, Skagway has become a staple for cruise ship itineraries. Rich in history and overflowing with activities, from historical excursions to nature-filled adventures, this former gold rush hub is a treasure trove for visitors. 
Whether you're drawn to the tales of the past or seeking adventures in its landscapes, Skagway promises a fulfilling experience.
Skagway: A Glimpse into the Past
Notably recognized for its place in the gold rush narrative, Skagway's roots trace back to the indigenous Tlingit tribe. This tribe established a trading relationship with the Athabascans. However, the gold rush era saw negotiations between the U.S. naval captain and the Tlingit tribe, resulting in shared trails leading to gold mines.
Skagway and its neighboring town, Dyea, witnessed rapid growth after the Klondike gold discovery in 1897. The Chilkoot Trail, a rigorous climb near Dyea, became a significant pathway for prospectors. Yet, its fame was marred by a devastating avalanche in 1898.
On the other hand, Skagway's White Pass, although longer and filled with its challenges, became an alternative. Transporting necessities became a herculean task, with Canada's directive mandating each prospector to have a year's worth of provisions.
As the challenges of the trails grew, so did Skagway's reputation. Soon, it became known for its wild, unruly nature with saloons and notorious figures like Jefferson Randolph "Soapy" Smith dominating the scene.
White Pass & Yukon Railroad: An Engineering Marvel
1898 saw the commencement of the White Pass & Yukon Route Railroad, completed by July 1900. With a workforce of around 35,000, this engineering marvel spanned 110 miles and is celebrated alongside landmarks like the Panama Canal and the Eiffel Tower.
While the railroad stands as a testament to engineering brilliance, it missed the pinnacle of the gold rush. The region witnessed its highest gold mining production in 1903. The subsequent years, however, saw a decline in fortune-seekers, with the population dwindling drastically by 1910.
Skagway's Turn to Tourism
Among the many personalities contributing to Skagway's narrative was Martin Itjen. Initially a gold rush enthusiast in 1898, his roles evolved, leading him to become a pivotal figure in Skagway's tourism. Itjen's contributions included innovative town tours using his modified Ford bus.
Realizing the potential of Skagway's rich history and picturesque landscapes, the town shifted focus post-WWII, aiming to boost its economy through tourism. Their aspirations were realized when Skagway and its surroundings were declared a National Historic Landmark in June 1962. This recognition was further cemented with President Gerald Ford's endorsement, leading to the establishment of the Klondike Gold Rush National Historical Park in 1976.
The Jewel of the Northern Waters: Skagway Port
The picturesque Skagway port is a renowned halt for numerous ocean liners. With an image captured by Debi Lander, it truly epitomizes the region's beauty. Historically, Skagway served as a hub for shipping and resources. Even though it leans on tourism nowadays, the local populace, according to 2019 data, averages between 800 and 1,000. Intriguingly, the numbers might have seen a downturn during global health crises.
Each annum, this northern gem magnetizes a whopping million wanderers. Primarily, these globetrotters flock in the warmer months via ocean vessels, sometimes as many as five docking in a single day.
On peak days, the influx of explorers, surpassing 8,000, swells the town's energy. A multitude opts for the complimentary tours by National Park Rangers, which are conducted multiple times daily.
A September Sail to Skagway's Shores
In the autumn of 2021, the massive vessel Oasis of the Seas, owned by Royal Caribbean, graced the tranquil waters leading to Skagway's magnificent harbor. As the ship sailed, the breathtaking landscape of snowy peaks and autumnal foliage painted a mesmerizing scene. The town, though petite, beckoned with a welcoming aura. On this particular September day, fortune favored the voyagers aboard this ship, for they were the sole visitors.
After the ship docked, many opted for a leisurely stroll towards the town center, bypassing the available tram services. This walk along Congress Way provided insights into the region's rich history from the gold rush era, thanks to informative signboards.
Soon after, the first glimpse of the National Park buildings came into view. The visitor center, situated adjacent to the historic 1898 railroad station, promises an enriching experience. It offers a plethora of educational activities, including captivating displays, enlightening films, ranger-led talks, and interpretive walks.
An ideal itinerary for a day-tripper would be reserving a spot for the Street Car Tour in the afternoon, post familiarizing oneself with the locale in the morning hours. As one roams, relics of the past such as old rail cars and railroad snow equipment can be discovered.
Broadway, the town's arterial road, buzzes with activity. Many outlets here present exquisite, albeit slightly expensive, keepsakes rather than commonplace souvenirs. Visitors can marvel at indigenous crafts, intricate silverware, precious fossils, and even walrus ivories. Though shopping might not be every traveler's cup of tea, the unique offerings are sure to pique one's interest.
Local culinary delights are aplenty too. A notable mention is the Klondike Doughboy, a delectable fried bread dough glazed with sugar. The town exudes an old-world charm reminiscent of classic Western films, with the staggering mountainous backdrop adding a touch of the northern wilderness.
For those not inclined for extended walks, the S.M.A.R.T shuttle service is available. With regular schedules, it provides the flexibility of hopping on and off at major attractions, all at a nominal fee of $5.
Skagway Shore Adventures: The Best Experiences from Ocean Liners
Skagway, with its rich history and natural allure, offers a myriad of experiences. From the iconic White Pass Railroad journey that provides an unparalleled view of the landscape to exhilarating dogsled rides and sumptuous traditional Alaskan salmon feasts, the choices are abundant.
For those sailing into Skagway, time is of the essence. A few noteworthy experiences include:
Skagway Shore Expeditions: For the adventurous spirit, it is advisable to scrutinize the excursion details. Some tours might traverse into Canada, necessitating a passport.
White Pass Summit Exploration: This three-hour journey on a compact bus is a treasure for history aficionados, especially those keen on the Gold Rush tales. The route includes the Gold Rush Cemetery and a picturesque drive up to the White Pass Summit and the surreal Tormented Valley. Passport essentials apply as the tour crosses into Canada.
Taiya River Scenic Float: This brief, 2.5-hour escapade involves a tranquil rafting experience down the Taiya River. One might even spot magnificent wildlife like the majestic bald eagle or perhaps even a bear.
Yukon Day-Long Discovery: Spanning 6.5 hours, this excursion delves into Canada's Yukon. From majestic mountainscapes to the verdant Emerald Lake, the barren Carcross desert, and the Caribou Crossing Trading post, it's a visual treat. Again, passport requirements apply.
Cost-effective Activities in Skagway:
The Ice-Cutting Train Showcase: Positioned conveniently at the culmination of Broadway, this artifact is hard to miss.
The Skagway Visitor Center (a.k.a. Arctic Brotherhood Hall): This historic structure, adorned with over 8,000 driftwood pieces, is a marvel. Inside, visitors can access detailed maps and information on Skagway's offerings.
Pre-arranged tour packages from ocean liners are plentiful. However, travelers can opt for personalized experiences by booking in advance through service providers. From aerial views via helicopters, glacier landings, dog-sled adventures, guided hiking trips, wildlife spotting, to kayaking in serene waters, the choices are boundless.
The White Pass & Yukon Railroad, a vestige from 1898, remains a crowd-puller. With a variety of offerings, from brief trips to extensive journeys and hiking drop-offs, it caters to diverse preferences. The climax, White Pass, standing tall at 2,888 feet, also marks the boundary between the USA and Canada.
Discover a World of Knowledge at Ranger Presentations and Historical Films
During the sun-filled months, Park Rangers host enlightening 30-minute discussions on an array of subjects. While one might encounter themes like "Gardening in the Northern Frontier," there are also complimentary daily 25-minute documentaries delving into the area's rich history, all presented at the Ranger Visitor Station, located at 2nd and Broadway.
Meandering Through the Quaint Streets
One enriching way to grasp the essence of a location is to stray away from the bustling main avenues and venture into the residential byways. This not only offers a more authentic feel of the locale but also presents delightful surprises, such as uniquely crafted garages.
Connect with the Digital World at the Public Library
Starting from 10 a.m., even before the library officially opens at noon, visitors can access complimentary Wi-Fi. The sight of locals gathered on benches, engrossed in their devices, often signals the availability of this digital amenity, found at the intersection of 8th and State.
Venture into Nature: Forest Trails and Railway Paths
The verdant forests around beckon adventurers with a myriad of trekking options. Hiking amidst these green canopies can undoubtedly be highlighted as one of the most invigorating activities in the region.
Trek to Picturesque Points: Yakutania and Dewey Lake
The serene trail to Yakutania Point offers a panoramic spectacle of the harbor, inlet, and occasionally, the visiting ships. It's rumored that, on certain days, the bay dances with the sight of whales. Dewey Lake trail is slightly more demanding but rewards trekkers with a tranquil stroll around the lake. This region is particularly favored for hiking during the sun-soaked months.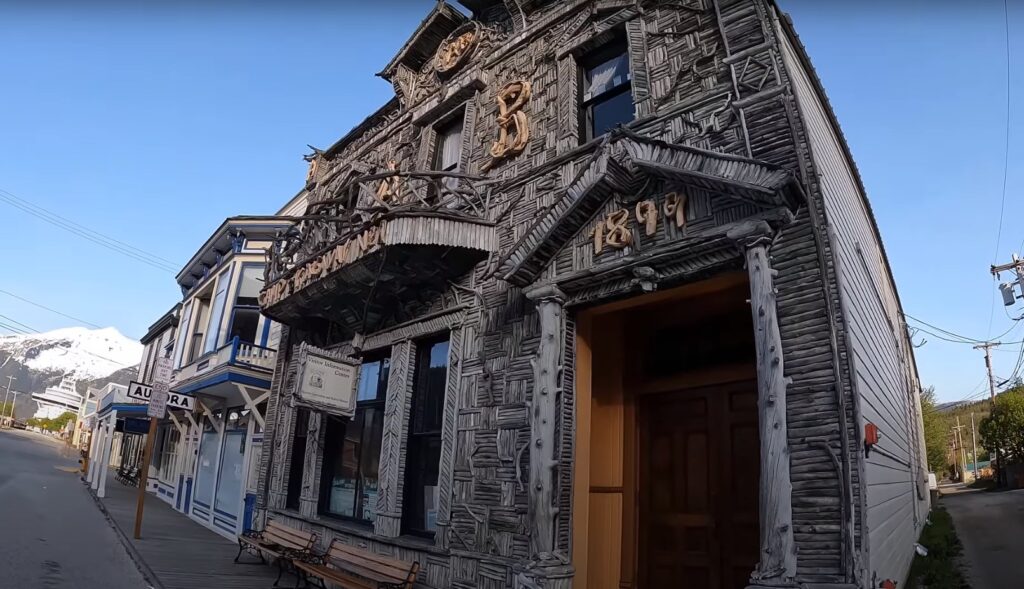 Dive into History: Gold Rush Cemetery
The tales of Soapy Smith and his adventures are synonymous with this region. A pivotal moment was the dramatic duel between Soapy and Frank Reid, the town's engineer, in 1898. While exploring this cemetery, many choose to partake in a guided tour aboard a distinctive yellow 'streetcar,' with lively guides unraveling the tumultuous events of the past, including the intrigues surrounding Soapy and Frank. The historic cascade, Reid Falls, which majestically flows down 300 feet, is a short distance uphill from the cemetery.
Marvel at Reid Waterfall
A brief stroll past the cemetery introduces visitors to the breathtaking Reid Waterfall, which gushes over rocks with surprising velocity.
Experience the Gold Rush: Klondike Gold Fields
While many choose to observe from afar, there's an option to indulge in gold panning. The expansive Liarsville Goldrush Camp, a tad further from the town's center, offers immersive excursions complete with transportation and authentic salmon feasts amidst costumed characters from the 19th century.
Historic Structures and Trails
Numerous edifices and pathways dot the region, meticulously preserved by the National Park Service. Structures like the J. Bernard Moore House, which harkens back to 1904, and the Mascot Saloon, which functioned amid 70 other saloons during the town's zenith, are testaments to the area's vibrant past. Moreover, the Arctic Brotherhood Hall, with its driftwood-adorned facade, stands as an architectural marvel, making it a must-see.
The Challenge of the Chilkoot Trail
Dyea, the neighboring ghost town, is the starting point for the iconic 33-mile Chilkoot Trail, a trekkers' paradise. The trail demands 3-4 days of commitment, and one can only wonder about those who braved it during the chilling winters. Those anchored on ships can indulge in a guided hike on a part of this trail, combined with a riveting float trip.
Market Exploration and the Town Museum
While some prefer to simply admire from the outside, the Broadway is dotted with indigenous craftwork and intricate totem poles. For those keen on history, the town's museum presents more insights into the gold rush era, with adjacent sculpture gardens for art enthusiasts.
Dining at the Red Onion and Its Gold Rush Legacy
Delight in a culinary experience at the Red Onion, a testament to the lively days of the gold rush. Journey to the upper level of the establishment for a fascinating tour sprinkled with playful innuendos, shedding light on its former life as one of the 70 erstwhile bordellos in this coastal town. During the gold rush, a massive influx of 15,000 men arrived, hoping to strike gold. However, this locale didn't yield any gold.
Surprisingly, the real fortunes perhaps lay with the madams who retained a significant portion of the girls' incomes. With services that equaled or surpassed a miner's daily earnings, it offers a glimpse into the town's intriguing past. (A nominal fee applies to the tour).
Insights on the Coastal Town
The proximity of the town's center to the cruise port ensures ease of access for travelers. A handy city shuttle bus operates around the town, providing an economical all-day hop-on-hop-off service for just $5. If timing a trip around the 4th of July, don't miss the delightful Pullen Creek's annual Rubber Duck Derby.
Coincidentally, if the timing aligns with the salmon season, Pullen Creek is an excellent vantage point to witness the salmon migration. For those keen on experiencing the White Pass Railway, selecting a seat on the train's left promises breathtaking uphill vistas. For photo enthusiasts, stepping out between the cars provides unmatched photographic opportunities.
Though many explore this coastal gem via cruise, a longer stay is recommended. Top accommodation options include the quaint Historic Skagway Inn and the strategically placed Westmark Skagway Inn, known for its excellent value.
Navigating to Skagway
A majority of tourists reach the town via luxurious liners. Nevertheless, alternative routes like the Alaska Marine Highway ferry system are also viable. Air-taxi services connecting the town with other Inside Passage areas are operational, with daily flights, especially between Juneau and the coastal locale.
Uniquely, this town is also accessible by road through the Klondike Highway, stretching all the way to the Yukon Territory. This scenic drive is part of the acclaimed Golden Circle journey which can be explored either from Skagway to Haines or vice versa.
Packing Essentials for an Alaskan Cruise
Preparing for an Alaskan cruise? Here's an extensive checklist tailored for a 14-day journey:
Daytime Essentials:
Water-resistant safari trousers (2 pairs for 14-day cruises)
One pair of jeans (avoid during active excursions)
Safari shirts (2), compatible with trousers or jeans
Layering options: long-sleeve crew-necks or turtlenecks (2)
Quilted vest, fleece jacket, water-resistant jacket
Optional thermal underwear
Accessories: gloves, liners, hat, neck warmer, warm socks
Treaded shoe covers, lightweight hiking shoes
Casual attire for travel days
Evening Essentials:
Trousers in black and another shade (maybe gray or summery white)
Versatile tops (5) that pair with both trouser options
A pair of all-matching shoes
Optional upscale attire for special nights
Expedition Travelers: Before packing a heavy jacket, consult with the cruise service. Some offer jackets to travelers.
Additional Essentials:
Bathing gear and flip-flops or sandals
Sun protection: hats, sunscreen
Insect repellent towelettes
Pajamas, underwear, and laundry essentials for on-board care
For those on an expedition cruise, modify the list by subtracting a trouser pair and two tops, given the relaxed ambiance and potentially packed schedule.
With these guidelines, you are well-prepared for an unforgettable Alaskan cruise experience.
Exploring Coastal Town Museums and Heritage Sites
Skagway, a coastal town, brims with history and offers several museums and heritage sites that take visitors back to the tumultuous days of the gold rush:
Gold Rush Cemetery and Lower Reid Falls: A serene spot filled with historical significance. This cemetery houses the graves of some notable figures from Skagway's past. Nearby, the cascading waters of Lower Reid Falls offer a picturesque setting.
Skagway Museum and Archives: Located in the town's historic district, this museum boasts an extensive collection of artifacts, photographs, and exhibits that chronicle Skagway's history. Key attractions include:
Gold Rush era relics
Indigenous Tlingit artifacts
Vintage photographs from the late 1800s
Trail of '98 Museum: This museum provides a deeper dive into the lives of miners and settlers who embarked on the arduous journey in search of gold. Highlights include:
Personal belongings of miners
Detailed maps showcasing gold routes
Stories of hardships faced during the Gold Rush
Outdoor Adventures Beyond the Cruise
Nature enthusiasts and adventure seekers have an array of choices when it comes to exploring Skagway's surroundings.
Dog Sledding: Experience the thrill of mushing with huskies, a popular activity in Skagway:
Summer dog sledding involves wheeled sleds on dirt tracks.
Learn about the care, training, and significance of sled dogs in Alaskan culture.
Helicopter Tours: Offering a bird's-eye view of Skagway and its majestic surroundings:
Glacial explorations: Land on ancient glaciers and witness their vastness.
Alpine lakes and hidden valleys: Discover untouched terrains and mesmerizing landscapes.
Kayaking: Paddle through Skagway's pristine waters and get up close with its marine life:
Glacier-fed lakes: Witness the ethereal blue hues of waters that come directly from melting glaciers.
Marine life: Chance encounters with seals, otters, and even orcas.
Culinary Delights of Skagway
Beyond its historical significance, Skagway offers a plethora of culinary experiences that reflect its rich cultural tapestry and the bounties of the sea.
Seafood Specialties: As a coastal town, Skagway's eateries offer fresh catches daily.
King crab legs: A succulent delicacy, often steamed to perfection.
Alaskan salmon: Grilled, smoked, or even raw as sushi.
Local Breweries and Distilleries: Immerse in the town's burgeoning craft beverage scene.

Skagway Brewing Company: Known for its Spruce Tip Blonde, a beer infused with hand-picked spruce tips.
Klondike Gold Distillery: Sample unique spirits inspired by the gold rush era.
Dessert First: Indulge in sweet treats that showcase Alaskan flavors.
Bear claw pastries: Filled with fruits, nuts, and a hint of cinnamon.
Alaskan berry pies: Using locally sourced berries, these pies are a burst of sweet and tart flavors.
By diving into these aspects of Skagway, travelers can enrich their experience, ensuring a holistic understanding and appreciation of this unique Alaskan gem.
Artistic Endeavors in Skagway
Skagway's rich history and cultural fabric extend beyond its gold rush tales. The town is also home to a burgeoning arts scene that reflects its diverse influences and natural beauty.
The Skagway Traditional Council's Craft Shop: Showcasing works of the local Tlingit population, including intricate beadwork, carvings, and traditional textiles.
Alaska Artisan Coffee: Beyond serving an aromatic cuppa, this venue displays local art pieces, from surreal paintings to nature-inspired crafts.
The Days of '98 Show: This theatrical performance, running for more than 90 years, depicts the colorful life of Soapy Smith, a con man from Skagway's gold rush era.
Skagway Arts Council: Hosting regular events, from film festivals to music nights, it's a testament to the town's evolving cultural palette.
Local artisans often conduct workshops, allowing visitors to try their hands at native crafts, painting, or even photography, capturing Skagway's mesmerizing landscapes.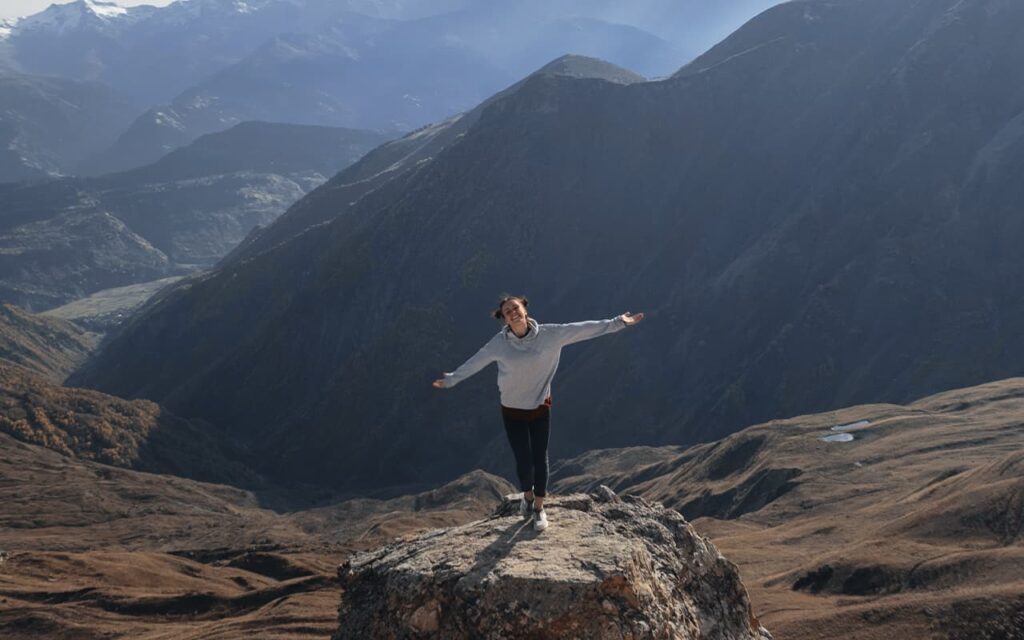 Hidden Gems in Skagway
While Skagway's main attractions are undoubtedly fascinating, the town also houses lesser-known treasures that provide insightful experiences for discerning travelers:
Dyea Town Site: A mere 10 miles from Skagway lies the ghost town of Dyea, which was once a booming port before being overshadowed by Skagway. Nature has reclaimed much of the town, making it a serene hiking spot today.
Pitchfork Falls: This cascading beauty often gets overlooked, but its tranquil ambiance makes it a must-visit for nature lovers. Ideal for a picnic or contemplative moments.
Corrington's Museum of Alaskan History: A free-to-enter venue, it offers a detailed look into Alaska's indigenous cultures, the gold rush era, and natural history.
Wildlife Excursions
Alaska's wilderness is home to an array of wildlife, and Skagway provides the perfect base for these excursions.
The lush landscapes around Skagway are home to bald eagles, ravens, and arctic terns, making it a haven for ornithologists and enthusiasts.
Special guided tours help identify and understand the local avian population better.
Boat tours provide opportunities to spot humpback whales, orcas, sea lions, and more in their natural habitat.
Knowledgeable guides enhance the experience with their insights into the behaviors and habits of these marine creatures.
The trails and terrains around Skagway might treat visitors with sights of bears, moose, and mountain goats. It's crucial, however, to maintain a safe distance and ideally opt for guided tours.
Conclusion
Skagway, nestled amidst the breathtaking landscapes of Alaska, stands as a testament to the myriad stories that have woven the fabric of its existence. While its gold rush saga remains a significant part of its narrative, the town is far more than a relic of the past. Every corner and alley whisper tales of its bygone days and beckon visitors to embark on an exploratory journey.
At the heart of Skagway lies an artistic spirit, born from the fusion of indigenous cultures, gold rush settlers, and the ever-evolving community that calls it home. This artistic dynamism finds its expression in local galleries, theater performances, and crafts that resonate with Skagway's distinctive character. These artistic pursuits are not mere attractions; they are dialogues that engage and provide insights into the town's rich cultural legacy.
The untouched wilderness surrounding Skagway presents a contrasting, yet harmonious, narrative. The serene trails, majestic marine mammals, and diverse birdlife invite travelers to experience nature in its rawest form. These excursions are not just about spotting wildlife but understanding and respecting the delicate balance of Alaska's ecosystems.
Beyond the mainstream narratives lie Skagway's hidden gems – from the tranquil environs of Dyea Town Site to the cascading waters of Pitchfork Falls. These treasures may be lesser known, but they encapsulate the town's spirit, blending history with nature seamlessly.
In essence, Skagway is more than a destination; it's an experience. It isn't merely a point on a traveler's itinerary but a chapter in their journey.
For those who venture into its terrains and delve into its stories, Skagway promises a symphony of adventures that echo the harmonious blend of history, culture, and nature. It invites wanderers to not just witness but to partake in its unfolding narrative, ensuring they leave with a piece of Skagway etched in their hearts.